Award Winning Cakes, Breads & Pastries !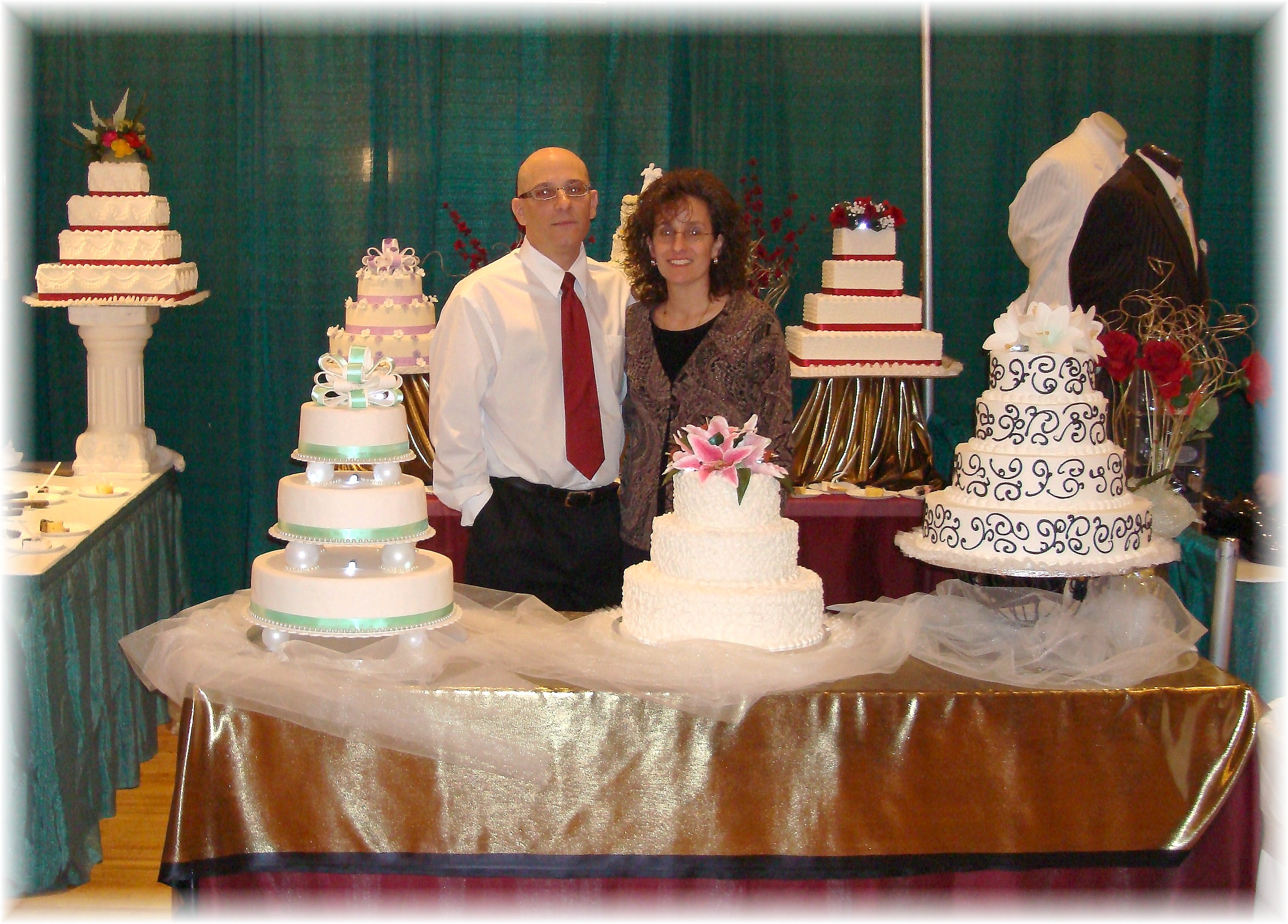 Guy & Lorena Chimirri of Chimirri's Pastry Shop Wethersfield, Connecticut
The 2013 Award Winning Team creates a fabulous collection of Finest Wedding Cakes
Call Lorena at 860 529 2527
to schedule a consultation for your Wedding Cake Selection
Award Winning Cakes Year after Year by leading publications & Banquet Facilities
The Winning Team for your fabulous Wedding Cake !
__________________________________________
Festive Events Coming Up Soon...
LAST CALL FOR ZEPPOLE
READ BELOW........
____________________
Spring is Here !
Time to Celebrate......
Easter 2014 !
Sunday April 20, 2014
Please place larger orders in advance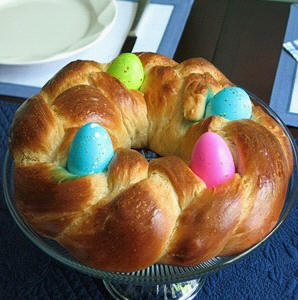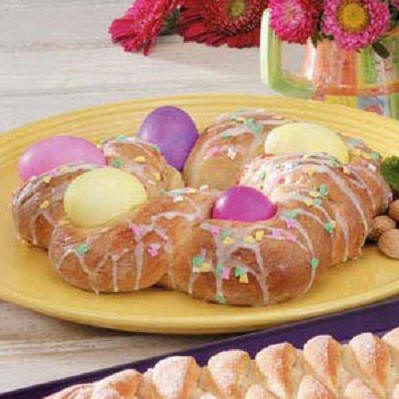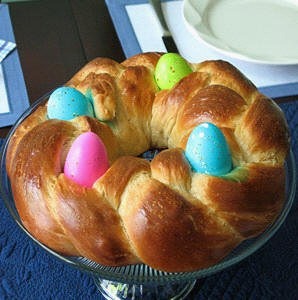 Come in and try our Easter Specialties ....
Easter Breads... Italian Easter Dove.... Chocolate Easter Eggs....
Baci Chocolates.....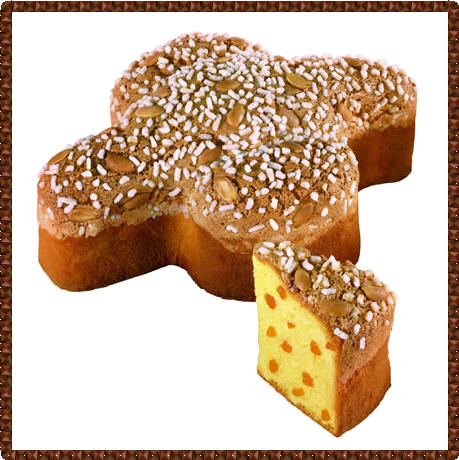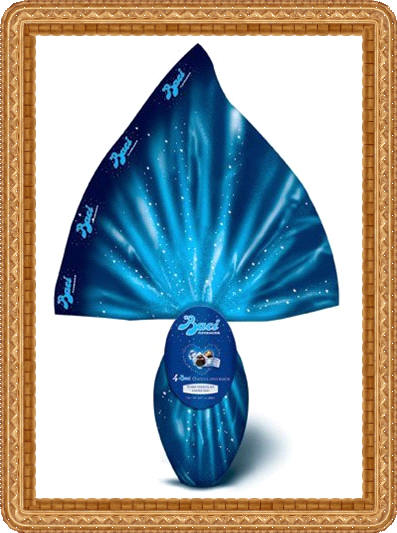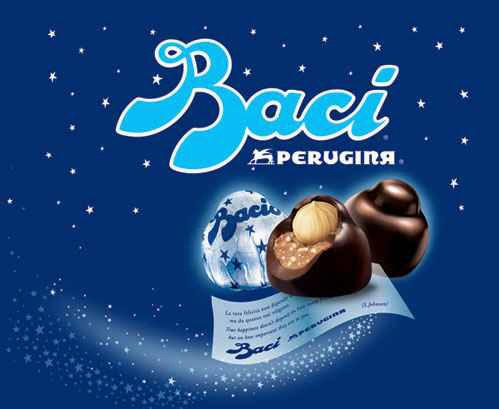 __________________________________________
LAST CALL TILL NEXT YEAR!
ZEPPOLE STILL AVAILABLE
Celebrate..... The Best Zeppole!
Made Fresh Daily!
Try one today.....
Zeppole di San Giuseppe
March 19th is Saint Joseph's Celebration
Enjoy The Best Zeppole di San Giuseppe all month long
Light Delicious and the best..... Fresh Baked and Filled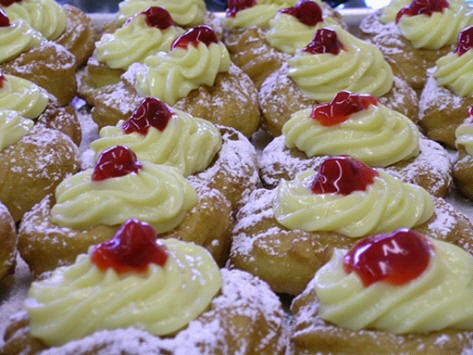 Zeppole di San Giuseppe (Saint Joseph's Day Fritters), scrumptious deep-fried Italian Fritters are made with pasta choux or bignè (cream puff dough). This light pastry dough is piped into nests and deep-fried creating a crispy outer crust. The choux pastry nests are truly irresistible and delicious when filled with crema pasticcera (vanilla pastry cream). And for the final tease, the Zeppola is garnished with an amarena cherry (wild cherries in syrup) nestled in the vanilla pastry cream.
These Saint Joseph's Day Cakes are sometimes referred to as Bignè di San Giuseppe or sfinci..... light and puffy clouds of sheer indulgence are traditionally served in Italy on St. Joseph's Day, March 19. San Giuseppe (St. Joseph's Day) is a very important Italian holiday. St. Joseph is the patron saint and protector of the family and la Festa di San Giuseppe is celebrated every year to honour St. Joseph's role as father of Jesus. Rather appropriate because Father's Day in Italy is also celebrated on March 19. If visiting Italy, the cream-filled fritters start appearing in pastry shops and coffee bars a couple of weeks prior to St. Joseph's Day. But on March 19, pastry shops are working triple time preparing thousands and thousands of Zeppole.
Come in and try our light and delicious Zeppole.....
Fresh Baked and Filled to order....
Please place larger orders in advance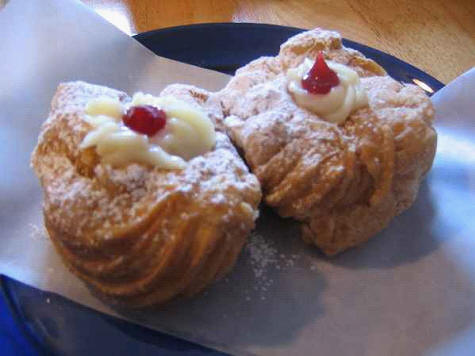 Zeppole di San Giuseppe
_________________________________________
Now Shipping Italian Cookie Trays to all
Locations in the USA....
ORDER NOW !
CLICK BELOW....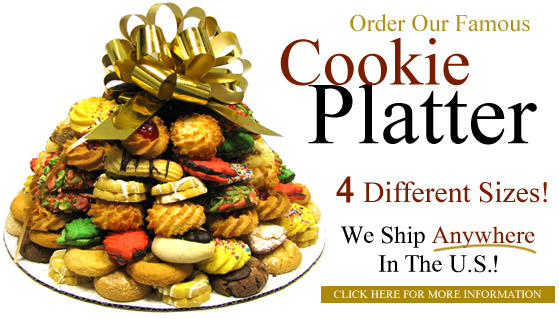 _________________________________________
Seasonal Cake & Pie Specials!
Celebrate 2014 !
Try Our Famous
Hartford Cream, Pumpkin, Apple
& All Our Delicious Specialty Pies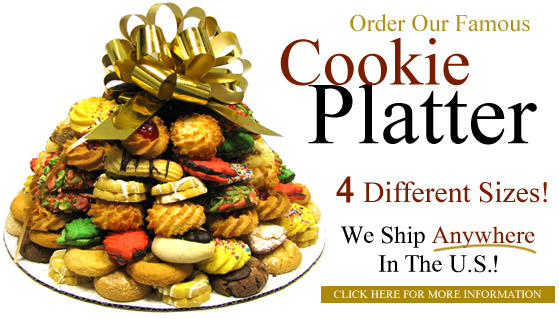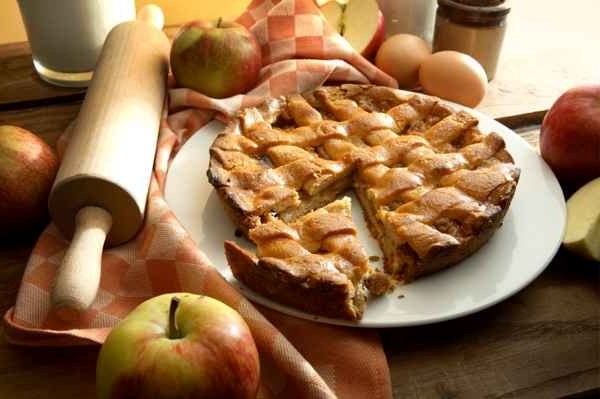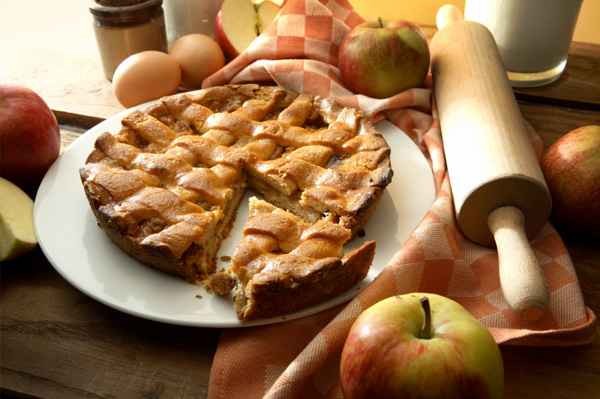 Delicious Specialty Pie Flavors...
Our Famous HARTFORD CREAM PIE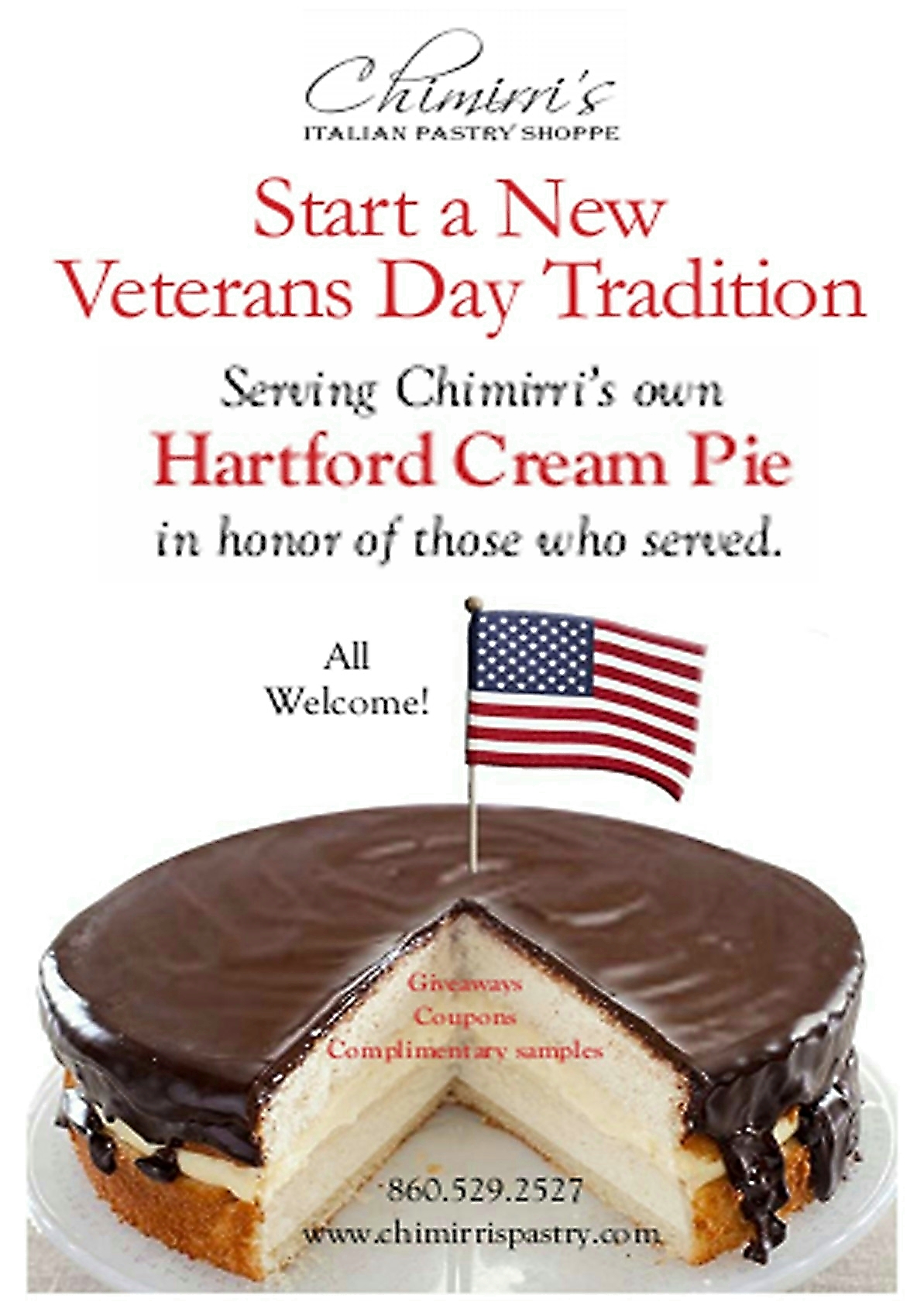 Also these fine flavors....
Pumpkin Apple Chocolate Cream
Banana Cream Coconut Custard Blueberry
Cherry Ricotta Lemon Meringue
Boston Cream
ALL OUR DELICIOUS PIES ARE HANDMADE DAILY FROM SCRATCH
PLEASE ORDER EARLY TO ENSURE AVAILABILITY
Thank you
_________________________________________
Pastry Chef Guy Chimirri on the air....talks to
Brad Davis & Mary Jones on WDRC AM 1360
"The Talk of Connecticut"
about his new creation....
A special radio interview on November 8, 2012 9am
Listen as we celebrate a new tradition dedicated to our Veterans of War
with his new creation of
The Hartford Cream Pie
available starting Sunday November 11, 2012
7" round $12 9" round $15
please order early for larger quantities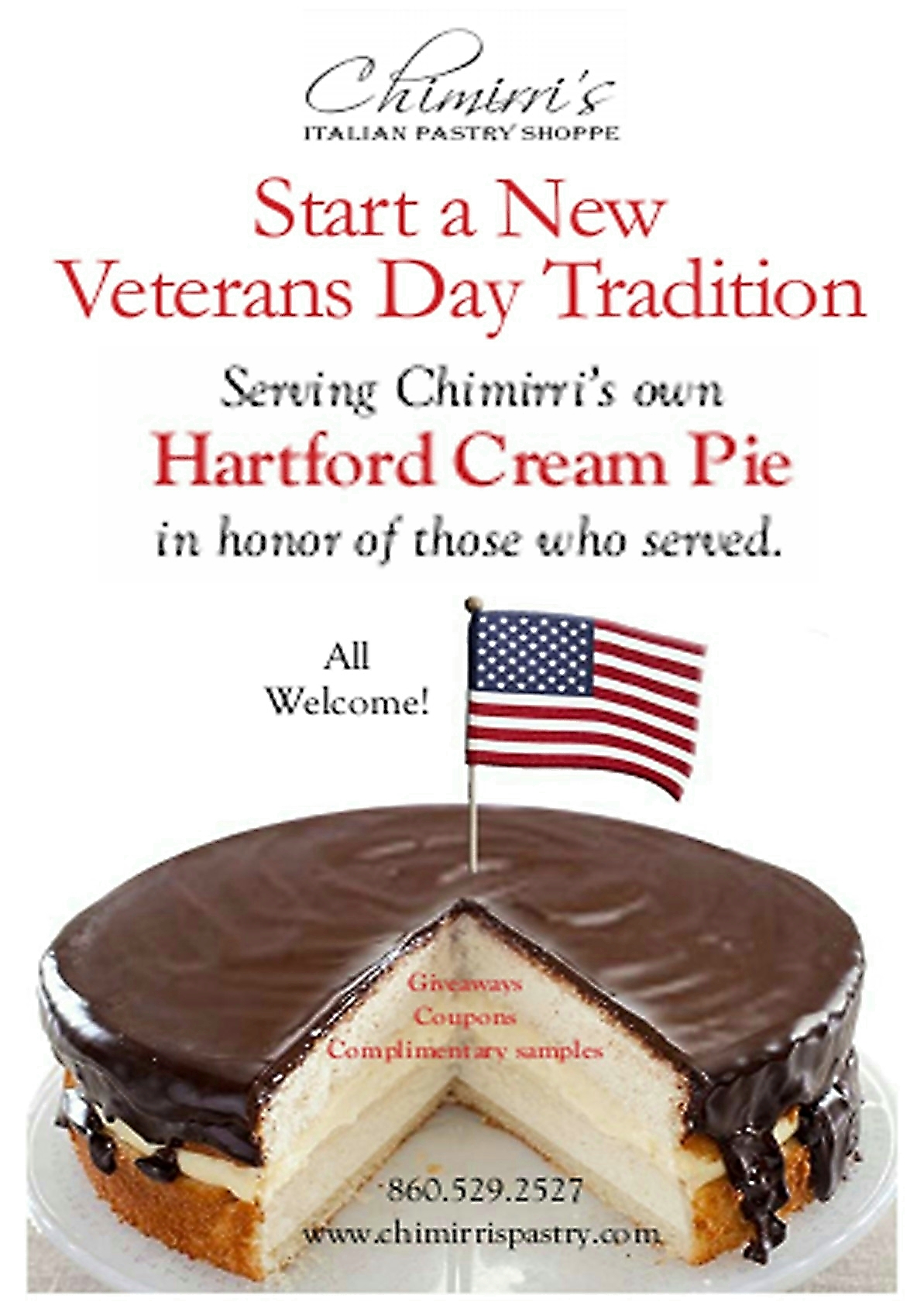 _________________________________________
Fine Specialties for Your
Festive Celebrations !
We continue through the season
with our traditional pies, Italian cookie trays, fabulous confections,
Italian & American specialties and cakes!
Our exclusive all natural "old world recipes"
make our product line so flavorful.
Enjoy delicious cakes, pastries
pies, and Italian specialties....
and you'll see why our customers are so
happy to return.....
See you soon !
All Content Copyright © 2014 Chimirris Pastry Shop, LLC. & All Respectful Owners. All Rights Reserved.